We're excited to announce that we've partnered up with property management software Reapit! Our partnership allows Reapit's AgencyCloud users to request our referencing checks directly from their CRM.
Reapit is the industry-leading cloud based property software provider, known globally for their CRM products which they say "provide everything estate agents need to run and grow their businesses, from sales and lettings to property management, front office to back office and everything in-between."
RentProfile's Referencing now available in the Reapit Foundations AppMarket
AgencyCloud users can now request our award-winning tenant referencing checks within their CRM. After installing RentProfile in the Reapit Foundations AppMarket, agents can request a check by flicking a switch for each tenant they wish to reference. They can see live updates of the tenant's referencing progress throughout. Once completed, the agent can view the full, easy-to-read report in AgencyCloud, with the process taking on average 2-3 hours from when the renter starts their application.
Steve Canning, Chief Revenue Officer, Reapit, said:
"I am delighted to welcome RentProfile as a new partner in the Reapit AppMarket ecosystem. The integration of RentProfile into Reapit's AppMarket will give our customers one-click access to the award-winning referencing checks services provided by RentProfile, from directly within their AgencyCloud CRM. This integration will help agents to offer faster referencing services to tenants and save them time on admin that can then be refocused elsewhere."
Agents can easily log into RentProfile using their Reapit details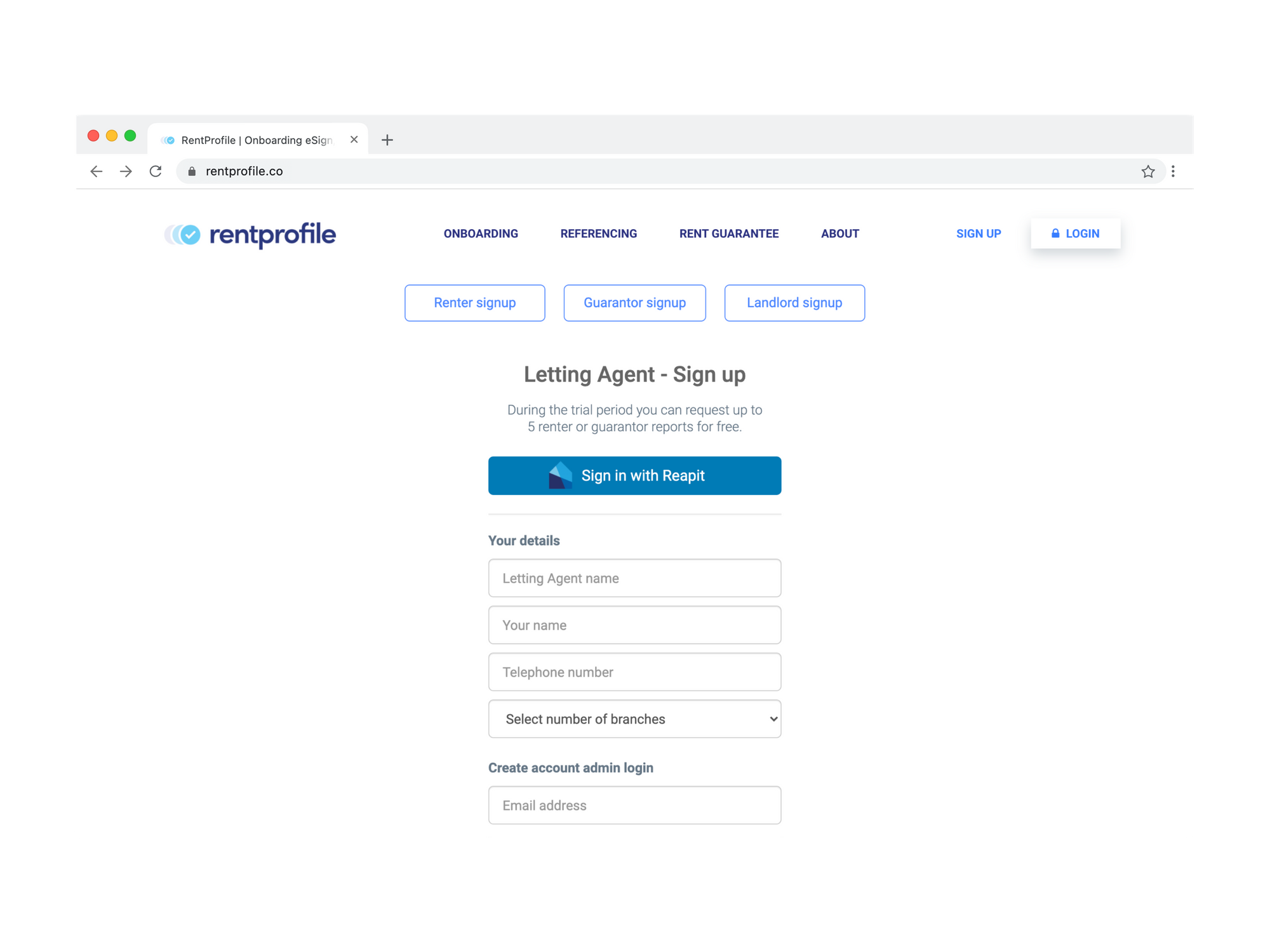 We are also the first of Reapit's partners to implement Reapit Connect. This enables Reapit users to login and access RentProfile with one click, automatically pulling the necessary agency details from Reapit. After logging into RentProfile using their Reapit details, agents can then request all of our products.
Connect utilises OAuth, a secure authentication option that is used by Google and Facebook; by using OAuth, no password needs to be set and stored, meaning less chance of details being compromised.
What's next in our partnership with Reapit?
In time our integration will extend to Onboarding, our tenancy progression solution which was recognised by Visa last year for its impact during COVID-19. If you have any questions about our partnership with Reapit, please email us at support@rentprofile.co or call us on 0203 905 1118.