Yesterday the chancellor Philip Hammond announced a ban of Letting Agent fees. A few people reached out to know what our thoughts were, and what impact it may have on the work we're doing.
Letting agents should have been more transparent about the fees they charge
In researching RentProfile we met with 100 agents and were surprised at the different tenant fees, with some not charging anything (rare) and others charging as much as £800 or more. Government figures suggest the average in England is £224.
Part of the problem has been that when using one of the agent-only portals such as Rightmove, it's not been possible to see how much the fees are. Instead an unhelpful list of things you may be charged for is displayed.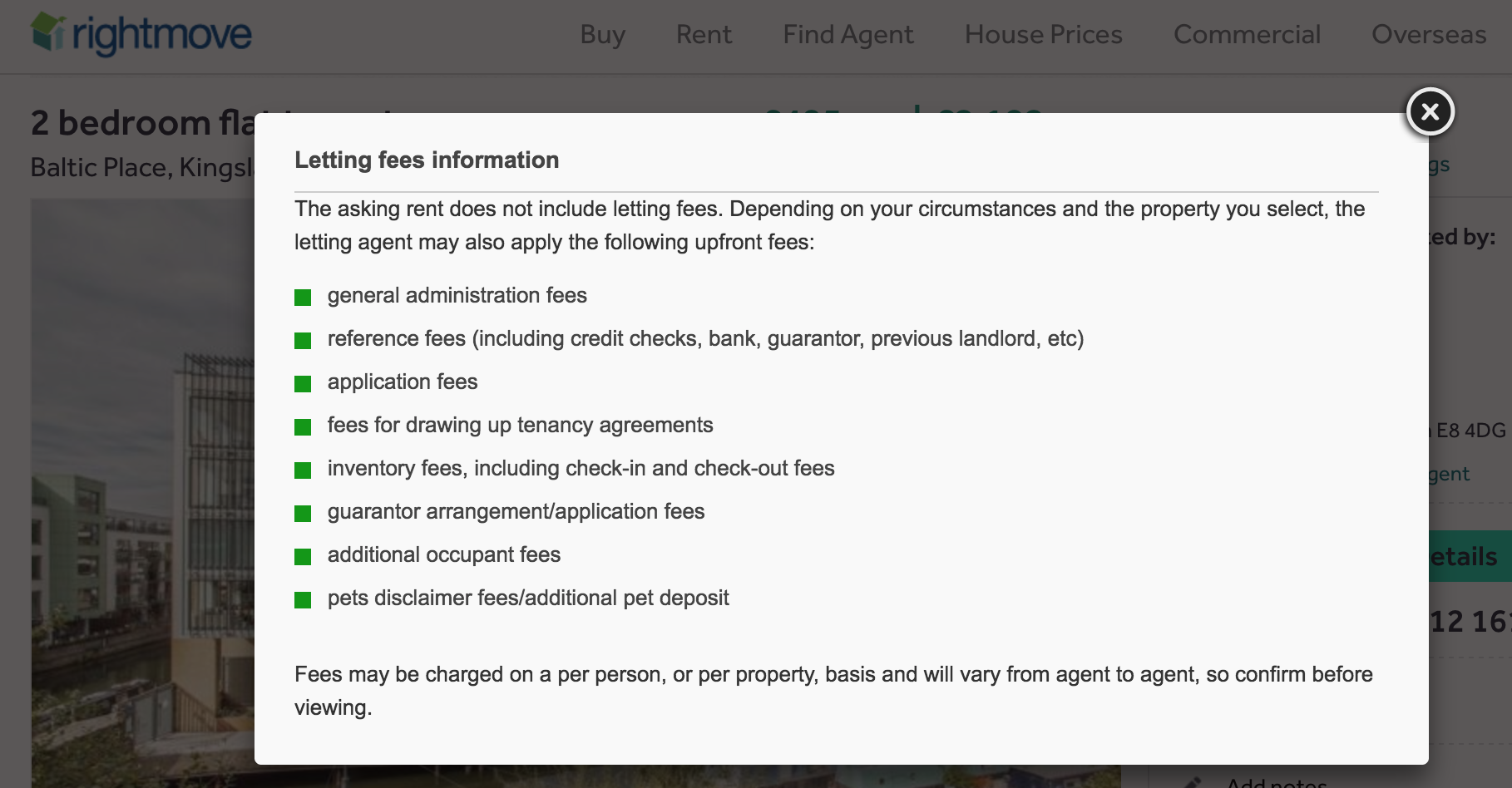 Last year an amendment to the Consumer Rights Act was supposed to improve transparency of agency fees, though crucially it did not include the property portals meaning it had little impact. The letting agent industry should have recognised the need to be transparent in what they charge, as an all-out ban may have been avoided.
Will agency fees be passed onto tenants?
It has been claimed that the banning of fees will lead to an increase in rents due to landlords passing charges on. We don't see this happening as there is high competition in the lettings agent market and landlords have the option to look for a better deal elsewhere, or not use an agent at all. Landlord letting agency fees are also tax deductible.
Impact on landlords who rent directly and free listing sites
Contrary to common belief most landlords in the UK let and manage their own rentals without the use of a letting agent. At RentProfile our focus has been on this side of the market, to cut out scams and rogue landlords, making it a safer option.
Landlords who rent direct source tenants through different means, one being free listing sites, which have been attractive to prospective tenants as they also avoided agency fees. If free listing sites do not get a grip of the fraud that exists then it will lead to prospective tenants using the major property portals, as this is now a safer soon-to-be free option. The banning of the fees could very well increase the business that letting agents get.
RentProfile can help organisations, such as listing sites, prevent fraud and create a better experience. We are developing API's to make it a straightforward process to integrate a landlord check or details of a pre-approved landlords to your application. If you are interested to learn more then you can register your interest here and be part of our beta programme.
We support the ban
Agents are instructed by landlords who act on their behalf, and so it is right they are charged. It is unfair to be taking money from both sides (especially the excessive fees) and we're pleased to see that this will be changed.
RentProfile will continue to support landlords who want to rent direct, by demonstrating trust and protecting against unauthorised sublets.
A lot of campaigning went into raising awareness of fees including from Shelter, Generation Rent, Resolution Foundation, Citizens Advice Bureau and The Debrief. We congratulate them on their work in pressuring the government to act.
What do you think about the letting agent fees ban? Let us know your views on our Facebook or Twitter.