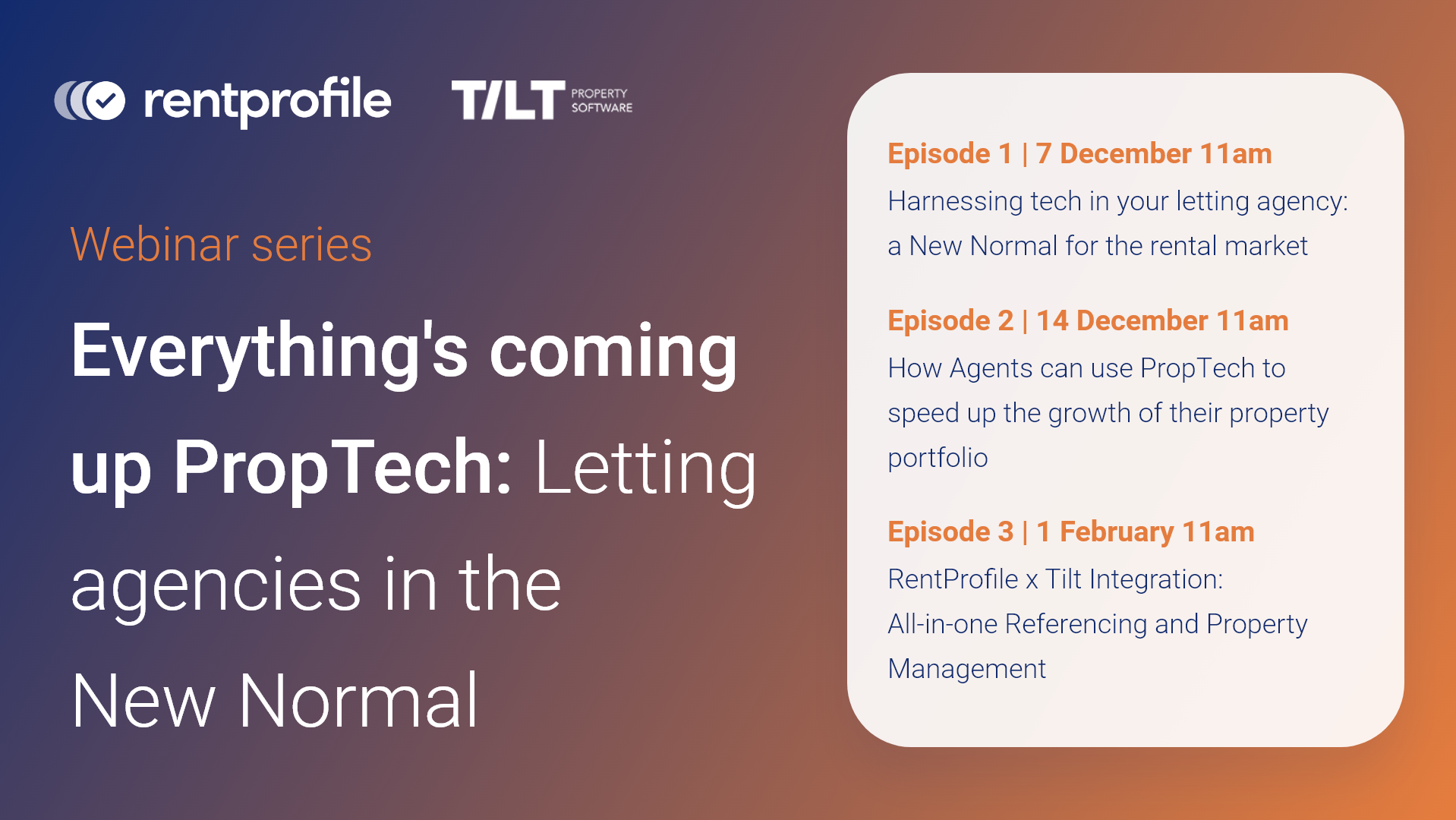 Save Monday 7th December in your calendars; this is set to be the launch date of our series of joint webinars with Tilt Property Software.
Curran McKay, Commercial Lead at RentProfile is having a (virtual) sit-down with Business Development Executives at Tilt, Conor O'Farrell and Kate Nolan. They will be sharing advice on how your agency can boost its pre- and post-tenancy admin in order to thrive in the new year - and the New Normal.
In our webinar series entitled "Everything's coming up PropTech: Letting agencies in the New Normal", we're inviting our agents (and anyone else who might find this helpful) to advise them on how to best adopt technology in their agencies.
Webinar episodes

Episode 1 - Monday 7 December 2020
Harnessing tech in your letting agency: a New Normal for the rental market

Episode 2 - Monday 14 December 2020
How Agents can use Proptech to speed up the growth of their property portfolio

Episode 3 - Monday 1 February 2021
RentProfile x Tilt Integration - All-in-one Referencing and Property Management
Tilt are pioneers in the world of property management software, having been around since 2004. They design software that perfectly fits the unique market demands of the rental sector. This is something that we also pride ourselves in; finding rental solutions to unmet needs.
Our partnership is not only instructional; we are also helping letting agents in unifying the pre- and post-tenancy stages. RentProfile provides award-winning Referencing to Tilt's property management tool Origin, a simple software for agents to manage their lettings. You can find out about this integration in our final webinar.
Sign up here: