I am very excited to announce the launch of Onboarding, a new product that simplifies the setup and management of new tenancies, dramatically reducing the turnaround time to as little as 20 minutes.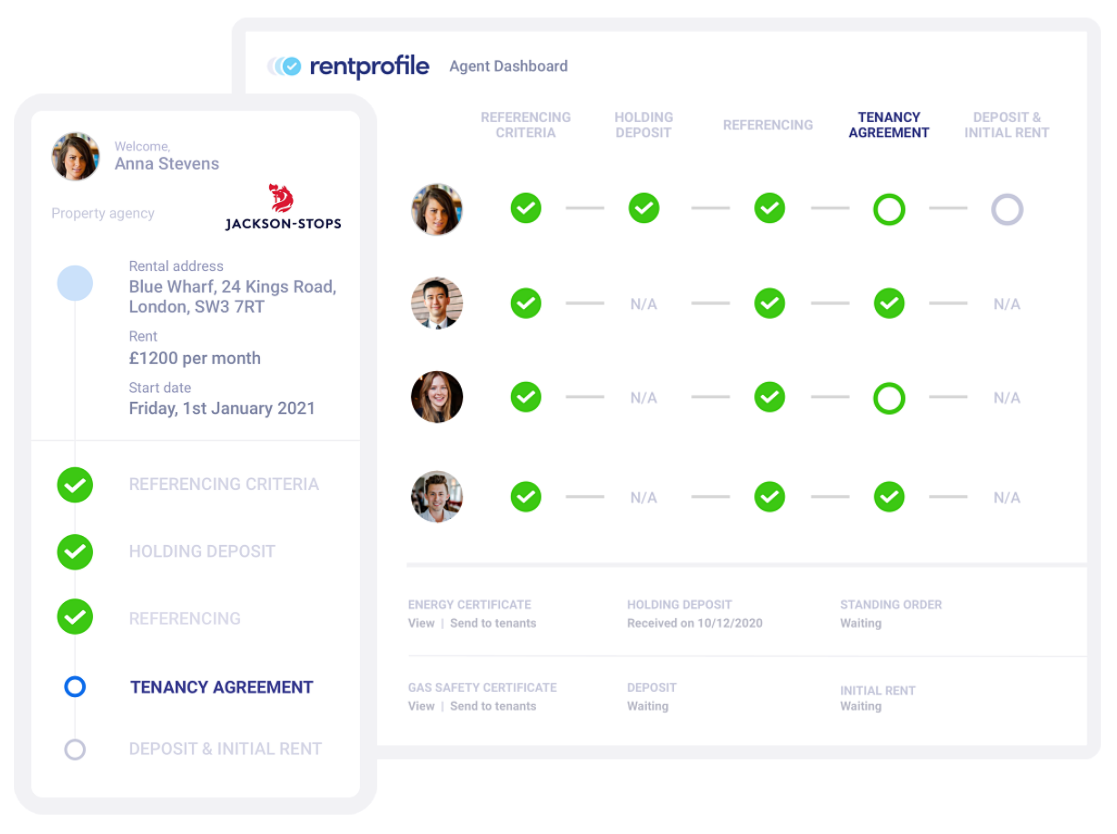 Our mission since starting RentProfile has been to develop technology that increases trust and transparency in the rental sector, helping connect good-responsible landlords, tenants and agents. Building on our unique tenant and landlord checking capability, Onboarding enables us to go further including generation of tenancy agreements and the safe transfer of deposit and rent payments.
The idea behind Onboarding originated from the impact of the Tenants Fee Act legislation last year. The act, which involved more than just banning fees, added rules for deposit limits and the need for tenants to agree to a Referencing Criteria, a written agreement of what they need to pass referencing before they start. In reviewing Referencing Criteria, some involving pre-applications or countless pages for tenants to read through, there was confusion and we felt unnecessary delays.
To help, we decided to develop a dynamic referencing criteria based on the rental amount, agent preferences (e.g. to accept international guarantors or not), and the type of tenant that we might be referencing, such as a student compared to a high net worth individual. What resulted is a criteria tailored to each individual tenant, allowing them to quickly agree and progress their application. We realised if we added the immediate step prior to referencing, the Holding Deposit payment, we could automate the process allowing for a significantly faster turnaround.
Steps post-referencing, including Tenancy Agreement signing and controls over Deposit and Initial Rent Payment were later added, and so the product evolved into a comprehensive solution for the quick setup and management of new tenancies.

A few features that we are particularly proud of include:
A unique all-in-one view of a tenancy, where agents can easily see the progress of each individual tenant application.
The creation of a user friendly, up to date and compliant tenancy agreement, in collaboration with our legal partners Kingsley Napley.
The ability to edit tenancies already in progress, as well as 'custom edits', meaning text or even your own agreement template can be added if you wish.
As we deal with the impact of COVID-19, Onboarding can help reduce the need for tenants to meet with agents, who themselves can do more tasks remotely. Or to simply focus less on repetitive administrative tasks, such as reviewing applications or chasing payments.
We are planning more updates in the coming weeks, such as auto setting up of Standing Orders and registration of Deposits. If you have ideas or feedback for how we can further improve then please get in touch.
I am very grateful to our team for their hard work and dedication, and our valued clients, in particular Jackson Stops, Hotblack Desiato and Sheraton Management, for the countless hours of feedback they provided in helping us develop this product together.
To learn more about Onboarding and to sign up for a free trial please visit www.rentprofile.co